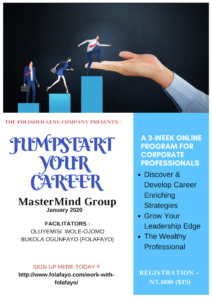 Did you miss the CrossRoads Live edition themed – Jumpstart Your Career? Not to worry, here's another opportunity to be equipped to position for a winning career.

This 3 week online program is for you if…
– you are transitioning back into the workplace
– Vying for a leadership role or opportunity in the corporate world or
– Considering switching to another company or industry altogether
Yemisi and myself have backgrounds and work experience in this subject area and passionate about adding value to you if you will let us 😉.
We will be sharing on career enriching strategies, how to develop your leadership edge and the secrets of the wealthy professional.