"THRIVE AT HOME" is an initiative designed to shape the paradigm that being home-based or having an extended time at home is one of the many fulfilling options one could consider to live life at its best.
It is focused on supporting anyone who is home-based, to boost confidence, maximize life-changing resources, be more productive and ultimately thrive.
It is also a transition aid for navigating change management & maintaining peak performance, for anyone exiting the corporate lifestyle (typical 9-5 job) to a home based one.
Do you need an intervention in this space? Select your preferred from options below…
THE THRIVE AT HOME MASTERCLASS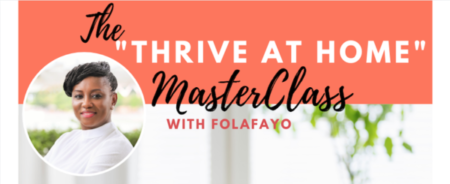 On Sunday the 22nd of March,2020, I facilitated this intervention crash class to address the current challenge many would be facing to maximize being more at home and position for productivity.
We touched on this season and it's peculiarities, the formula to thrive and how to truly connect and bond despite the lockdown. You can watch the free replay till the 31st of March, 2020. You don't want to miss out on the amazing offers I'm giving too.
TAH ONE-ON-ONE COACHING
This is a private coaching & mentoring program. It is customized to suit the individual's schedule and personal needs in this season. This program will leave you with clarity on goals to pursue, a deeper level of self awareness and customized strategies for personal effectiveness. You will get prioritized access for sessions and to value-add resources.
If you're result oriented, ready for a shift and a fulfilling life, this option is for you.
Investment starts from $750
Get More Details & Sign Up Here
THE THRIVE AT HOME CHEAT DOCUMENT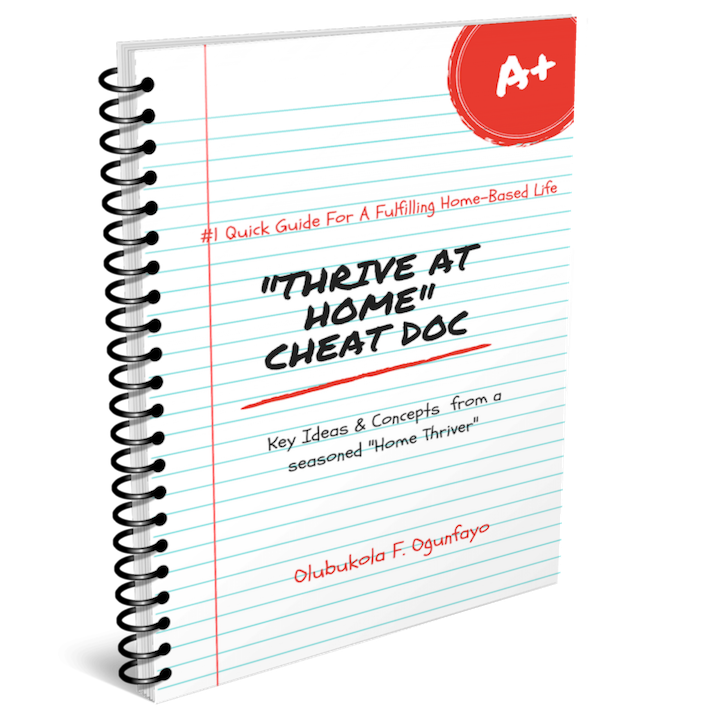 Are you ready & eager to dive into the understanding of the key ideas you need to excel in the home-space? Are you considering transitioning out of the corporate world and eager to build the right foundation, and not sure where to start? Then this cheat sheet is what you need, and it is free!!
Get your copy and ongoing support to thrive when you download.
THE THRIVE AT HOME MASTERMIND GROUP

The Thrive At Home MasterMind Group is a Signature Program Offering by FolaFayo. It is a 4-week online group session with private debrief sessions before and after the program.
As a mastermind group, key benefits include…
In-depth learning into focused areas like
– Self Awareness & Life Harmony
– Seasons and Expectations
– Gift Identification & Expression
– Personal Development etc
Acquire & customize working strategies that will distinguish you while you're home based
Opportunity to collaborate with others in this space
If you're a stay-home dad, stay-home mum, entrepreneur / free lance professional working from home or you're in some life transition requiring you to spend more time at home, this is a program you want to enroll in. You could choose either the
Basic option at $250 or
The Premium at $400 (Plus DISCover-You and a full Debrief Session).
In August and September 2019, FolaFayo held live sessions on her Instagram handle where she shared key ideas on being effective, successful and fulfilled in the home place e.g. the formula to thriving, demystifying the myths around being home-based and how to position for higher effectiveness amongst others. The audio files are available but with exclusive access to only participants of the group.
Sign Up Now and join other like minds to thrive more at home
THE THRIVE AT HOME COMMUNITY
How does thriving with a community sound to you? A community of fellow home-based individuals making the best out of this season. Our FaceBook Group is one you definitely want to be a part of. We look forward to having you and growing with you. I have a welcome video waiting for you too.